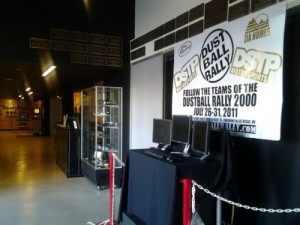 Three days. 2,000 miles. 30 cars. I rode with eight of them.
In summer 2011, the organizers of the Dustball Rally asked if I would be the official multimedia monkey on the longest road rally they'd ever attempted. So, I got to work.
I teamed up with the Balboa Park Online Collaborative to install a live exhibit in the lobby of the San Diego Automotive Museum. Visitors could track our progress via GPS, view a real-time photo stream and chat with us live.
The Dustball is a road rally, not a race. To be more precise: It's a gimmick rally. You don't win by getting there first or fastest. Instead, with the Dustball, you don't know where "there" is. At the launch point each morning, you're handed a packet of clues that will get you from point A to point B by the end of the day. The teams that win follow the instructions closest, answer the most trivia questions correctly and embody the spirit of the rally.
A big part of my job, and the most exhilarating, was hopping from vehicle to vehicle, documenting the characters and the landscape through video, photos and creative writing. I kept a blog and a Tumblr page, updating live from the road whenever possible.
All of this was pretty new and exciting back then. I like to think I predict the rise of apps like Waze in my lightning talk at the Mingei Museum.
You can also read the cover story I wrote for the Santa Fe Reporter about the earlier, shorter Dustball 1500 rally.