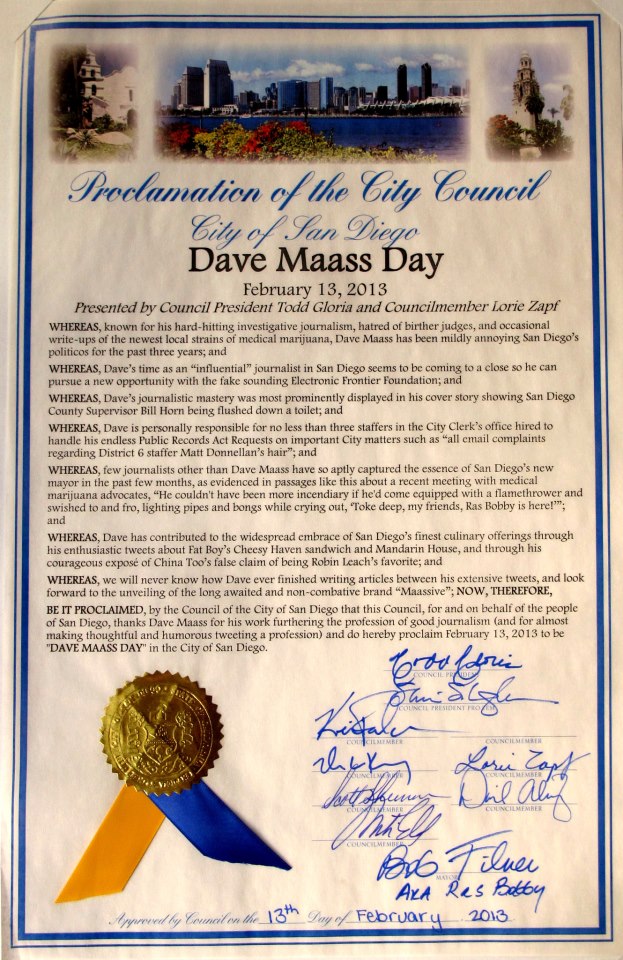 As I was leaving  for San Francisco, the City of San Diego officially proclaimed February 13, 2013 as "Dave Maass Day." It's a real, sealed document, signed by the sitting City Council and then-mayor Bob Filner (a.k.a. "Ras Bobby").
The text:
Proclamation of the City Council

City of San Diego

Dave Maass Day

February 13, 2013

Present by Council President Todd Gloria and Councilmember Lorie Zapf

WHEREAS, known for his hard-hitting investigative journalism, hatred of birther judges, and occasional write-ups of the newest local strains of medical marijuana, Dave Maass has been mildly annoying San Diego's politicos for the past three years; and

WHEREAS, Dave's time as an "influential" journalist in San Diego seems to be coming to a close so he can pursue a new opportunity with the fake sounding Electronic Frontier Foundation; and

WHEREAS, Dave's journalistic mastery was most prominently displayed in his cover story showing San Diego County Supervisor Bill Horn being flushed down a toilet; and

WHEREAS, Dave is personally responsible for no less than three staffers in the City Clerk's office hired to handle his endless Public Records Act Requests on important City matters such as "all email complaints regarding District 6 staffer Matt Donnellan's hair"; and

WHEREAS, few journalists other than Dave Maass have so aptly captured the essence of San Diego's new mayor in the past few months, as evidenced in passages like this about a recent meeting with medical marijuana advocates, "He couldn't have been more incendiary if he'd come equipped with a flamethrower and swished to and fro, lighting pipes and bongs while crying out, 'Toke deep, my friends, Ras Bobby is here!'"; and

WHEREAS, Dave has contributed to the widespread embrase of San Diego's finest culinary offerings through his enthusiastic tweets about Fat Boy's Cheesy [Heaven] sandwich and Mandarin House, and through his courageous exposé or China Too's false claim of being Robin Leach's favorite*; and

WHEREAS, we will never know how Dave ever finished writing articles between his extensive tweets, and look forward to the unveiling of the long awaited and non-combative brand "Maassive"; NOW, THEREFORE,

BE IT PROCLAIMED, by the Council of the City of San Diego that this Council, for and on behalf of the people of San Diego, thanks Dave Maass for his work furthering the profession of good journalism (and for almost making thoughtful and humorous tweeting a profession) and do hereby proclaim February 13, 2013 to be "DAVE MAASS DAY" in the City of San Diego
* Note: Technically, Keegan Kyle of Voice of San Diego got to the bottom of the Robin Leach fact-check after I made a stink about it.