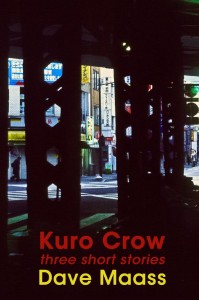 Kuro Crow: Three Short Stories
Download it for just $0.99 at  iTunes, Barnes & Noble, or Amazon.
In 1999, I decided I was through with Phoenix, the flat, suburban sprawl where I was I born and raised. I resolved to leave it for a place more, for lack of a better word, vertical. These three stories were inspired by my student observations of Tokyo at the turn of the 21st Century as I learned to look up for the first time.
In All You Can Stomach, an English-as-a-foreign-language teacher on an overnight package trip to Seoul is derailed from his mission to gorge on Korean barbecue by two too-adorable cult members. (First published in Pulp.net).
Kuro Crow is a drunk conversation between a cynical expat and an uncomprehending salaryman that weaves between cultural pretenses, winged predators and the disappearance of a young American hostess. (First published in Flux magazine.)
Originally a spoken-word piece, Whitecaps  is written in the voice of a young sailor who finds himself disgusted and inspired by his own voyeurism as he watches his mate dance with a "horse-faced sure thing" in a Shibuya night club. (First published in 5_Trope.)
"It nails the sense of timesickness and placesickness you get in Asia—and the cultural lag and fog that comes with it."
– Douglas Coupland, author, Generation X,  Player One
"Maass' stories aren't typical travelogues disguised as short fiction. Observations about Japan are secondary. The author's voice is most prominent: humorous, irreverent, slightly cynical, and clever."
– Angela Carone, KPBS Culture Lust