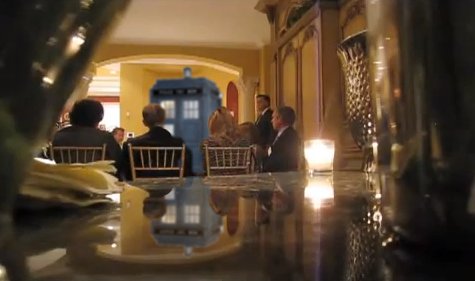 So, I wrote a script for a Mitt Romney – Doctor Who crossover sketch.
BBC Radio 4 Extra airs  a weekly, 30-minute topical sketch comedy show called Newsjack. What's special about Newsjack is that the program has an open submission policy, which means on Mondays, writers can send in short, unsolicited sketches and one-liners for consideration.
Those who know me are well aware of my obsession with radio theatre and, as evidenced by my spelling of the word,  fixation on the British variety. So, I decided to give it a shot. Two shots actually.
Both missed.
I've decided that, considering my workload at CityBeat plus the other endeavors I've agreed to, there really isn't much point in these attempts. If you get accepted for the show: Hooray! Fame and a fee.  If you don't, well, there's no shelf life for topical, political sketches. They go stale instantly. It's not like there's any kind of demand for them since, you know, Newsjack's pretty much the only open-submission, British political sketch comedy show on the radio. If I spent the time to write a  work of short fiction for a contest, and I lost, at least I could submit it somewhere else.
All that said, I was actually kind of pleased with how the second one came out, even if the punchline is a bit cheap. I thought I might share it so it's not all for naught.  Enjoy:
(Quick context: The sketches on the show are extremely short, very dry and silly and usually begin with a jokey monologue-style introduction. Also, Newsjack only has two male actors and two female actors and they won't consider anything that does not fit those casting limitations. That explains why I wrote Rory out of the sketch.
Also, major props to Mother Jones magazine for publishing the Romney video in the first place.)