Once again, I'm behind on blog posts. Sorry. It's just the way things are. Busy busy busy. But, I thought I'd share a new side project I've picked up: Writing blog posts for SyFy channel's SciFiWire.com, which, of course, is a bit of a nerd dream come true.
These aren't news pieces or even reviews, but just fun lists and format busters involving sci-fi, fantasy and horror television and film. For example, here's the Periodic Table of The Empire Strikes Back I conceptualized for the 30th anniversary of the Star Wars sequel: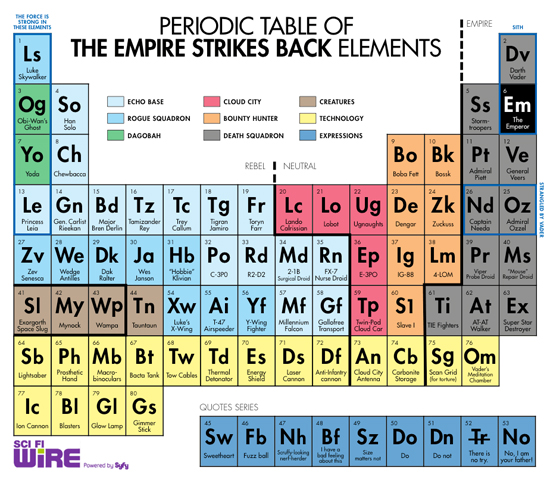 Click to enlarge.
And here's a piece on all the reasons why I still love Total Recall, two decades after the fact. And, in honor of the monstrous BP oil spill, here's my list of sci-fi's greatest (and silliest) grease and petroleum monsters.
More to come, though I might not get around to blogging it. Instead, click this link to see my author page or the new widget I've added to the sidebar.
Other than that, well… the CityBeat gig is friggin' awesome…but I'll blog about that some other time.