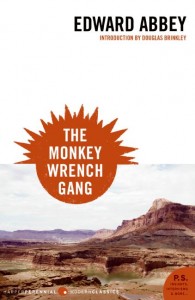 I've resisted reading Edward Abbey all my life, excusing myself from the required southwestern reading with the assumption that, as a native Arizonan, it would all be redundant. Environmentalism is baked into my chromosomes.
I needed a book to read and I wanted a sure thing: a book that would be a fun, light-ish read as well as an important and iconic work of literature. Having also written a piece about eco-terrorism recently, which involved an interview with Earth First! co-founder Dave Foreman, I wasn't surprised at all that The Monkey Wrench Gang just jumped off the used shelf into my hands.
So, yeah, I'm giving in. I hope it's worth it. I've already had to skip the Douglas Brinkley introduction.